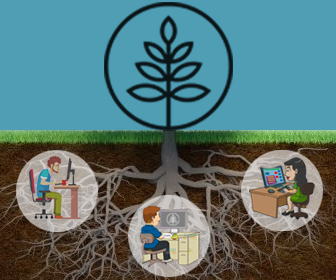 I know it's been a few months since our last update. But that doesn't mean we haven't been deep in development, climbing the ropes toward tree app excellence!
Like a beautifully sound tree, the foundation is in the roots and hidden below the surface. Much of our development these past months has been just that: strengthening our app infrastructure to optimize for faster processing and the ability to give you more features.
We're also happy to announce that there WILL be an Offline Mode! So you can still inventory trees, view map, estimates, etc in areas without cell service! (This was a major request at TCIA when we met some of you.)
TREEZI FEATURE LIST

While this is not an exhaustive list, below are the main features you can expect with treezi.
CORE Features in initial release:
–Option to add individual trees (with photos, DBH, height, etc)
–Option to add trees as line items (ie. Structure Prune x 10 trees)
–Add client notes
–Add internal job notes
–No tree limit per property
–Multiple photos
–Notes to photos
–Basic attributes: Species, DBH, Height, Health Rating, Priority Status, Notes
–Option to add additional attributes
Client approval with e-signature
Work Mode
–Ability to mark individual items "complete" without completing entire job
–Reminder to Invoice when Job is complete
–Email notifications
–Basic Revenue (Sales, Invoiced, Paid)
Quickbooks Integration
Customize with Company Logo
Cloud-based & mobile (iOS first, android to follow)
Feature added updates after initial release:
Schedule visits
Emergency Job Quick Add
Proposals
–Smart pricing (adjusts pricing based on past inputs)
–Add attachments
–Email notifications
–Apply payments
–Partial payments
–Pay with Credit Card add-on option
–Tree inventory export
–Client info export
SO NOW WHAT?

I know what you're thinking. That's great, when can I try it??
We were originally shooting our Beta release for Spring. Buuuut, Summertime is likely the new timeframe (good stuff takes time!). Once we get much of this back-end development out of the way, the app interface will move quickly. You'll be seeing more frequent updates from us.
Until then…stay strong and prune on!

– Your Treezi Friends
Powered by ArborPlus
A Product of A Plus Tree, Inc
Disclaimer: We will not be offering Treezi on the West Coast where A Plus Tree operates. Is it possible we may offer a limited version, but this will on a case-by-case basis.